2nd International Symposium on Neglected Influenza Viruses, 7th - 8th March 2013
The following visitor sights are within walking distance of the symposium venue and are 'must-see' attractions when visiting Dublin.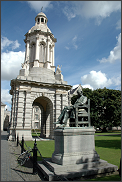 1. Trinity College and Library
Founded in 1592 by Queen Elizabeth I on the grounds of an Augustinian priory that was a victim of the dissolution. Trinity College even today dominates the city landscape and the oldest buildings (the brick-built "Rubrics") date from 1700. Most of the impressive buildings were built during the renovation phase of 1759. Trinity College Library is home to more than an million books and priceless manuscripts, the most famous being the "Book of Kells" - long queues may form in summer.






2. National Museums
Two museums should be high on the list of priorities for any visitor. The National Museum of Archaeology and History in Kildare Street (Dublin 2) is dedicated to prehistoric and medieval Ireland. Do not miss the excellent new exhibition "Kingship & Sacrifice". The National Museum of Decorative Arts and History in Collins Barracks (Benburb Street, Dublin 7) houses an eclectic collection including the uniform Michael Collins was shot in and an exhibition on the Easter Rising.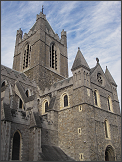 3. St Patrick's Cathedral
Ireland's largest church and the National Cathedral - this special status was conferred on a church were no bishop actually has his throne! Founded in 1191 by Archbishop Comyn the building was substantially renovated between 1844 and 1869 with moneys granted and raised by Sir Benjamin Lee Guinness. Visitors will thus find a neo-gothic cathedral with some older parts. Here you will also see the graves of Dean Swift (of "Gulliver" fame) and his beloved Stella.





4. National Gallery
Situated at Merrion Square West and right in the center of Dublin. Ireland's National Gallery is a "must see" for anyone interested in Irish and European art. Opened in 1864 it has around 500 major works of art on display - among them Hogarth, Gainsborough, Poussin, Monet, Degas, El Greco, Velasquez, Goya, Picasso, Titian, Caravaggio, Brueghel, Vermeer and Rubens. Especially strong on Irish artists and Irish portraits the National Gallery has recently been expanded by the "Millennium Wing".



5. Dublin Castle

Not a forbidding fortress and definitely not a fairy-tale image - Dublin Castle is the "Irish Stew" of castles, everything thrown in in bits and pieces. The original Viking fortress was expanded, renovated, torn down and rebuilt over the centuries. Today a massive tower and the Royal Chapel look medieval while all administrative buildings are in more modern styles. The defensive character is gone but the beautiful gardens and impressive state rooms make more than up for it.


City Tour by Bus
The Dublin Tour visits all the main Dublin attractions along our route and these include Dublin Zoo and Trinity College. 2 day ticket allows you to hop on and off as often as you wish. The tour operates daily from 9.00am and can be joined at any of 24 stops, each conveniently located near one of the most popular Dublin attractions. For example, you can join outside Trinity College, leave at the Guinness Storehouse (and sample a Pint Of Guinness!) and then re-join later. The Dublin Bus Tour also offers discounts for tickets at a selection of the most popular attractions en route. Live and multilingual pre-recorded commentary. The multilingual commentary is in 10 languages and operates every 30 minutes. Click here to link to the Dublin Bus Tour website http://www.dublinsightseeing.ie
Guided Walking Tour
This complete Heritage Guided Walking Tour of Dublin passes the former Houses of Parliament, Trinity College, shopping areas including Grafton Street and Bewley's (Dublin's oldest café), Powerscourt Townhouse (an 18th century Georgian Mansion, now part of a shopping centre), City Hall and the Chapel Royal before wandering past the courtyards and the Gardens of Dublin Castle, the Chester Beatty Library, medieval city walls, the Old City & Temple Bar West, Fishamble Street (site of the first performance of Messiah by George Frederick Handel), and Christ Church Cathedral (first founded by the Vikings). Along the way you will encounter mementoes of vast archaeological discoveries revealing Dublin's rich Viking and Medieval past. There will be an opportunity at the end to end the walk to include a special combination discounted entry to Guinness Storehouse or the Old Jameson Whiskey Distillery. Tour tickets include discounts in The Church Café/Bar and Bewley's, Dublin's oldest café. Tickets can be booked online up to 48 hours prior to the tour. Departs daily duration 2.5 hours. For further details visit http://www.walkingtours.ie/