3rd International Symposium on Neglected Influenza Viruses, 15-17 April 2015

Sightseeing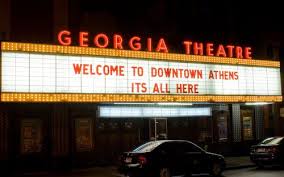 You may know Athens, Georgia as home to R.E.M. and the B-52s,

the city Rolling Stone named "#1 College Music Scene in America."

You may know it for the University of Georgia and Georgia Bulldogs the

"Classic City of the South" where rich tradition at the heart of a hip

college town creates a culture unlike any other.
Nestled below the Blue Ridge Mountains, 70 miles from Atlanta,

Athens is a harmony of old and new: wedding-perfect

Antebellum architecture, contemporary art and eclectic

nightlife, a Victorian-era downtown teeming with funky shops

and one of the South's most progressive culinary scenes.




Visit the Athens Visitors Site for a listing of tours, daytrips,

or just fun things

to do during your visit

http://www.visitathensga.com



A warm welcome awaits~